CONTACT US TO MAKE AN ENQUIRY
Evolute Endmills
Evolute Endmills PDF Catalogue
Choose a Category to go to Section
What you need to know about Evolute Endmills
We specialise in high performance solid carbide cutting tools through new milling design technologies, superior material quality & high manufacturing standards.
Below a selection of our endmills, but we have a much larger range available. We hold large stock for fast delivery to you and we are able to do small batch customs on request (click here for form).
Key Take Aways Points
We are Australian Owned & Australian Made
We use high grade Austrian Carbide
We hold large quantity of inventory for fast next day delivery... We know people need tools fast not in 3 weeks.
Can do Small Batch Custom Endmills
Can do In-house Necking
Got a question or can't find what you're after... or just want some advice?
Talk to one of our sales reps → Contact us here
High performance Solid Carbide Endmills For Medium to Hard Steels
End Mills for Hardened steels up to 65 Hrc
Aerospace titanium alloys and heat resistance steels
Tool steels and high alloy steels
High performance solid carbide endmills for Aluminium
Aluminium and aluminium alloys
Plastics / Acetal
Uncoated for Maximum Sharpness
General Purpose Solid Carbide Endmills
Steels
Stainless Steels
Cast Iron
Non-ferrous Metals
Custom Endmills & Necking
Custom Endmills
We can grind small batches of custom or modified endmills designs
Custom endmills can radically improve productivity and overall cost
Negotiable Quantities
Custom Profile Cutters
Compression Cutters
Custom Endmill ForM
CLICK TO DOWNLOAD
In-House Necking
We have the ability to modify endmills in-house
Lead time: we can Neck tools typically same day OR next day - eliminating long delays - so say good by to 2 week lead time
Also we can shorten endmills
Got an idea for a modification → give us a call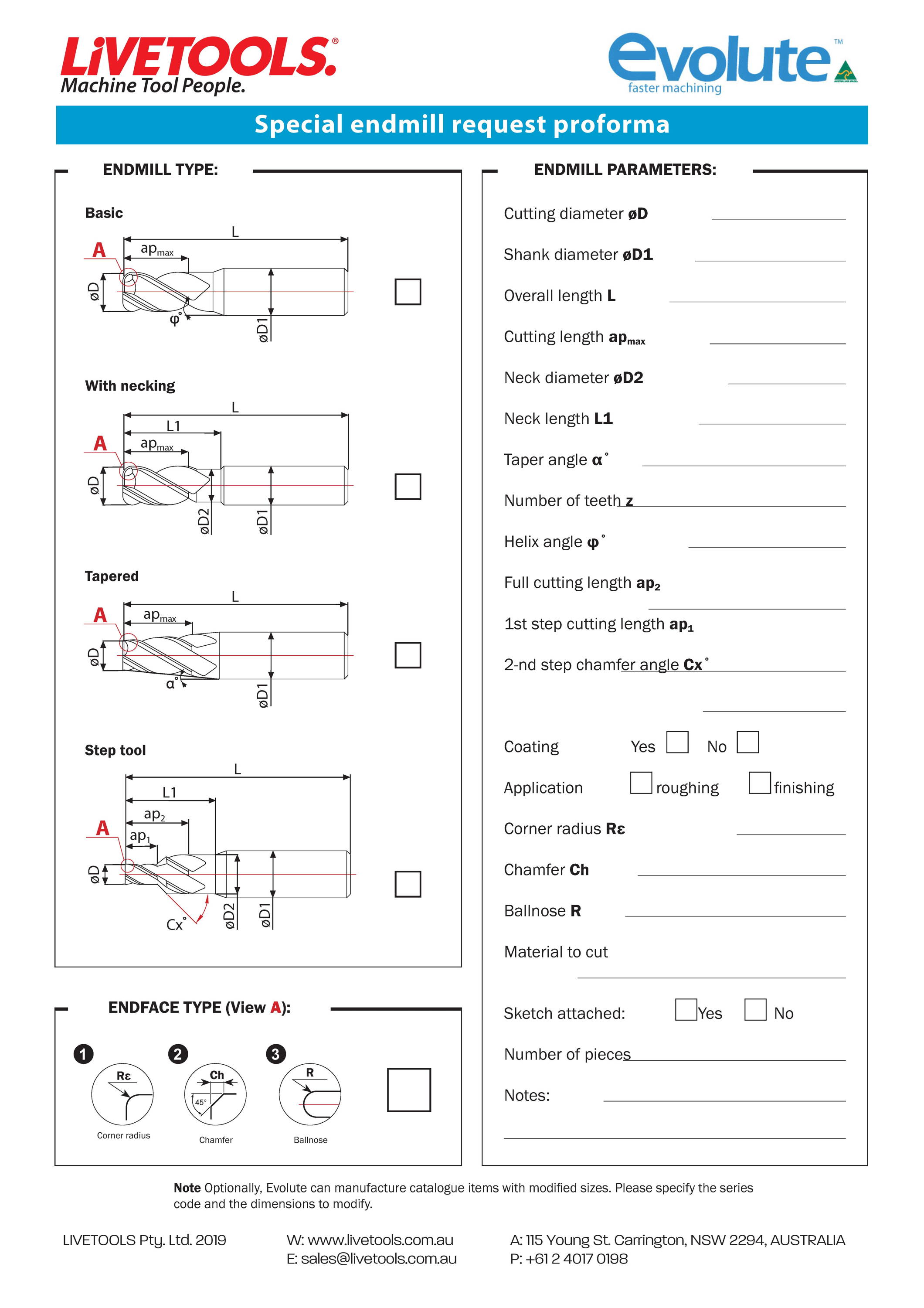 All About Evolute Endmills
We manufacture our endmills in Melbourne, Victoria. We have a number of Walter Grinders and an expert team designing and grinding the endmills.
There is a lot of technology that goes into our endmills and that makes the difference when being used.
But to make great tools, we believe you need to start with high quality materials - for this we import Austrian Carbide. We run the carbide just a little bit softer, which makes it less brittle but means that it blunts a little bit faster. The reason we took this strategy is because typically machine shops break endmills before they wear them out - this way the endmills are more likely to last longer.
GALLERY